Shining the Light on SPILLING INK by Anne Mazer and Ellen Potter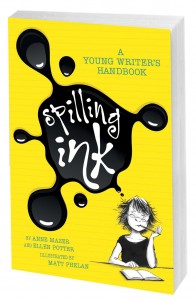 Have you had a chance to read SPILLING INK: A Young Writer's Handbook by Anne Mazer and Ellen Potter? If you haven't, you must check it out. It's a great resource for the young writer, a middle school teacher to use in a classroom setting, and I'll admit, even an older person (ahem) like me. Note: Thank you, MacMillan Children's Publishing Group for sending me a copy.
But, have no fear. This is NOT a boring writing manual. How could it be when the creative minds behind OLIVIA KIDNEY and ABBY HAYES are at work? No way. Kids are going to enjoy learning how to write when they read SPILLING INK.
The book cover and illustrations pop (thanks to illustrator Matt Phelan). Add in Anne's and Ellen's catchy titles, entertaining chapters, and I DARE YOU writing exercises, and you've got a great book young writers will want to use, over and over again. Anne and Ellen encourage their readers, offering them easy to understand examples and helpful tips. First drafts, voice, characters, plot, dialogue, writer's block, and even revisions won't seem impossible to handle. And that is HUGE.
Without further ado, I'm so pleased to welcome Anne and Ellen as guest bloggers today. I asked them to write about things to consider when working with someone else on a project and they put together this Q&A in a similar style of the book. Enjoy!
Q & A with Spilling Ink Authors Anne Mazer and Ellen Potter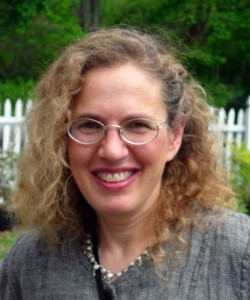 Questions for Anne Mazer
What made you most nervous about collaborating at the beginning?
Anne: Creative collaborations are my idea of heaven on earth. What could be more fun than brainstorming, thinking up ideas, tossing concepts around with another person? (Well, that's my idea of fun, anyway.) So I was really pleased about collaborating with Ellen, whose writing I admired. If I was nervous about anything, it was about whether this collaboration would work. I half-expected it to fall apart. Ellen and I barely knew each other. It was quite likely that we'd get on each other's nerves, or one of us would feel committed and the other wouldn't, or else we'd have a disagreement and the whole project would collapse. Then, every time I saw one of Ellen's books in a bookstore, I'd get a queasy feeling in the pit of my stomach and would have to leave fast.
I had NO clue that I was embarking on a fabulous, life-changing writing partnership that was, by the way, one of the better experiences of my life.
Do you have any tips for potential collaborators on how to give each other feedback?
Anne: First of all, you need to be honest about what you like and dislike. If you can't communicate openly, then your collaboration will fail.
Sometimes either Ellen or I saw things that weren't in the spirit of our project – those were really important to point out. Our discussions about what didn't work helped us to refine our vision and ultimately enriched the book.
It's also very important to deliver your critique with respect and kindness. If you have a genuine liking and admiration for your collaborator, giving positive feedback comes naturally. Hint: If you don't like or respect your collaborator, run for the hills!
One of the advantages of working with a collaborator is that you can help each other become better writers. I learned so much from Ellen – not only from her feedback, but also from working closely with her.
P.S. For specific ways to give feedback, see our "How To Give Fabulous Feedback" mini poster at our Spilling Ink Website http://www.spillinginkthebook.com/teachers-kit/
How did you decide who did which sections?
Anne: There was no master plan, no outline, and no strict division of labor. What Ellen and I did was think up all the questions that a young writer might want answered, and all the tips and wisdom about writing that we wanted to impart. This didn't happen all at once; we did it throughout the course of the book, so that even when we thought the book was done, we were still adding new sections. To decide who wrote what, we just waved our hand, and said, "I want it!" Very strangely, we never had any conflict. The topics that gave me stomach cramps appealed to Ellen and vice versa.
Both of us had major things to say about plot and character, but I especially liked talking about "Writer's Brain," the psychological aspects of writing, while Ellen was brilliant on the nitty-gritty of "Craft."
How has the collaboration changed your relationship with each other?
Anne: Ellen used to be a person who I admired and liked, but didn't really know. Now she's one of my closest friends and one of the most important people in my life. I am so used to communicating with her every day that if I don't see her name light up my mailbox every morning (I've highlighted her emails with a my favorite color of yellow-orange), I feel bereft. It all adds up to a teensy Ellen Potter addiction.
Anne's web site is http://www.annemazerbooks.com/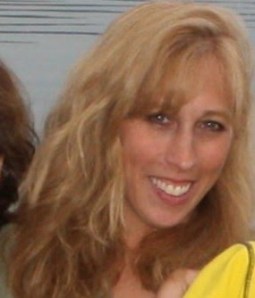 Questions for Ellen Potter
What was the most surprising thing to you about collaborating with another writer?
Ellen: The fact that it was possible. I never imagined I could write a book with someone else. I mean, how does one DO that?
Still, when Anne suggested that we write a fun and practical writing book for kids, I didn't think twice about saying Yes. For one thing, I know a great idea when I hear it. But more importantly, I know a great writing partner when I meet her.
The biggest surprise, though, was that collaborating was immensely enjoyable. When I write solo, the process feels a lot like being in the violent throes of first love. There are hallucinogenic highs and rotten lows. By the time I finish a novel I am emotionally kaput.
When I collaborated with Anne,
though, the writing process felt more like a very stable yet dynamic marriage. There was no drama. No angst. We helped each other through the rough patches and cheered each time we successfully finished a chapter. It was without a doubt the most fun I ever had writing a book.
Did collaboration with Anne bring you any new insights about writing?
Ellen: I learned something every time she sent me a new section. In fact, I was writing a novel at the same time we were working on Spilling Ink, and when I was having a problem with some writing issue—like writer's block or finding ideas—I'd request that she write a section about it. What a luxury!
Also, she pointed out my overuse of the word really. She was right. Really, really right.
How do you and Anne work together? Did you find your way all at once, or did your partnership evolve?
Ellen: I could tell you some hair-raising stories of nasty arguments and bruised egos . . . but they'd all be lies to make this blog post a little splashier. In reality, the collaboration was silky smooth from beginning to end.
Still, I am a pretty stubborn person. At first, when Anne sent back her critiques of my chapters, a little voice in my head would occasionally grumble, "Hmph! I think it's fine the way it is." But once I got over myself, I found that Anne was generally right. She is a perceptive yet diplomatic editor. After a while, I changed my baseline: Instead of assuming I knew better, I assumed that she did.
As our partnership evolved, so did our friendship. Even though the book is finished we still talk almost every day. We're itching to collaborate again, but we're going to wait until the next perfect idea flags us down.
What qualities do you think are necessary for a successful collaboration?
Ellen: I think it all boils down to the same qualities that are necessary for a successful marriage:
1. You have to trust that the other person is watching your back.
2. You have to be genuinely gobsmacked by each other's wonderfulness.
Take a peek at the Spilling Ink web site, which features a Creativity Blog, downloads for teachers and kids, and book giveaways http://www.spillinginkthebook.com/
Ellen's web site is http://www.ellenpotter.com/