Beth Kephart, A Treasure Hunt, and You Are My Only
As many of you know, I'm a huge fan of Beth Kephart. If you haven't had a chance to visit Beth's blog yet, I'll gently urge you to GO. As I wrote in my interview with Beth a few years ago (on my HipWriterMama blog), "Beth has an incredible gift of seeing the little things that matter. I've decided she is a writer with a pure artisanal mindset — she hand selects each word before painting layers of meaning and imagery onto paper." 
I've been fortunate to get to know Beth over the past few years, and all I can say is Beth's spirit is as beautiful as her writing. It's enough to make one feel jealous, but all I can feel is absolute pride and happiness for her. She TRULY is a gift. 
When I heard Beth had a new book coming out, I couldn't wait to help spread the word. Beth put together a treasure hunt to share the inspiration and stories behind YOU ARE MY ONLY. I invite you to read these five posts. It's not often you can learn from a talented writer. Now is your chance.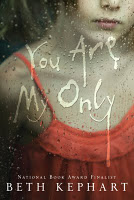 1.  The (furious) metamorphosis of Sophie
2.  Opening the Doors to Clois and Helen by Beth Kephart
3.  When Emmy called I listened

4.  I was obsessed with an asylum

5. What name should we give this book?
YOU ARE MY ONLY will be out in the world on October 25th. You can view the book trailer here.